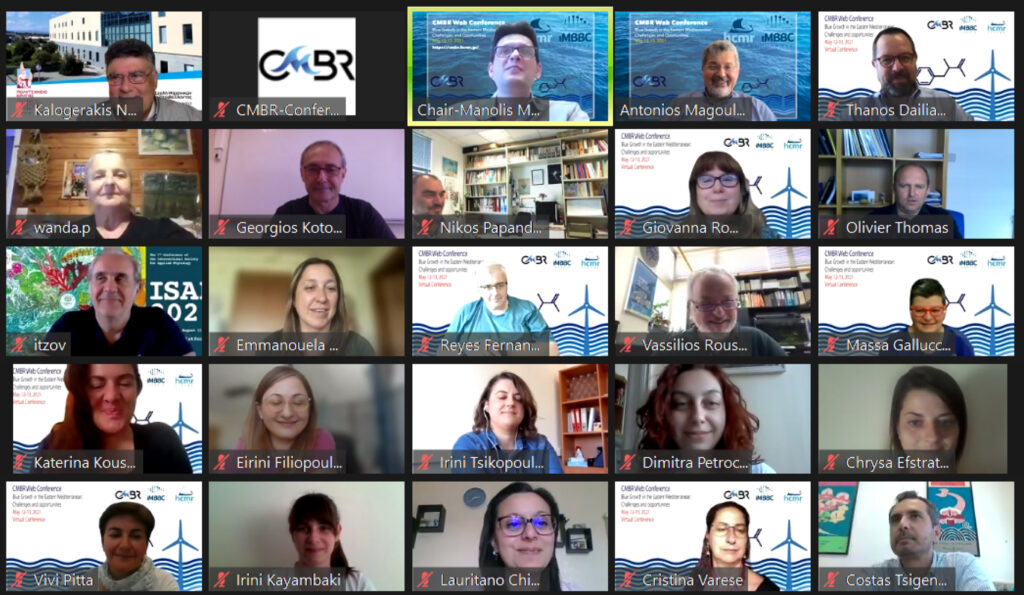 Session 1 - CMBR Infrastructure towards Blue Growth May 12, 2021 | 8:00 to 10:30 GMT
Planetary challenges took societies by surprise, forcing them to urgently address sustainability of marine resources, supporting healthy oceans for a healthy planet. Under such pressure Research Infrastructures (RIs) had to adopt new technologies and allow thorough access to marine organisms and ecosystems, production of high quality FAIR data, support of molecular, organismal, ecosystemic, aquaculture and biotechnological research and Innovation. RIs should sustainably give access to a range of facilities, biobanks, analytical and optical technologies to allow proper experimentation at different levels, both inland and at the sea, at scales ranging from microcosms to industrial pilots. CMBR's major goal is to nurture excellence, facilitate innovation contributing to national and regional economies, update and advise policies on infrastructure.  Being broadly connected, CMBRs vision is to take part in the fulfillment of global policies, such as the UN's 2030 sustainable development goals, the Decade of the Ocean, the European Green Deal and Blue Economy.
Session 2 – The Blue Growth concept: policy, management & economics May 12, 2021 | 12:00 to 14:45 GMT
Blue economy is the EU strategy to support sustainable growth in the marine and maritime sectors, recognizing that seas and oceans are major drivers for the European economy. To this end, knowledge together with research and innovation are key elements to maximize the economic, scientific and environmental advantages of the extended EU marine environment and can contribute to international competitiveness, resource efficiency, and jobs creation, while promoting environmental sustainability, thus securing the services offered by healthy and resilient ecosystems. The fields considered in this context include coastal and maritime tourism, aquaculture, blue energy, mineral extraction, maritime transport and shipbuilding. All these areas are of particular interest for the Mediterranean region and represent significant opportunities for development in the years to come.
Session 3 – Marine Biological Resources
May 13, 2021 | 8:00 to 11:00 GMT
Life in the marine realm is highly diverse and subject to varying environmental gradients. This vast and complex biodiversity, which yet remains partly underexplored, shows high potential for biotechnological valorization. The latter includes production of biomass for food and feed, an array of compounds and chemical processes useful for biomedical applications and biomaterials, as well as environmental services that can be harnessed to promote bioremediation and ecosystem health. However, this potential comes with substantial sourcing and supply considerations with an outlook to future ocean sustainability. Use case scenarios should comply with conservation guidelines for sensitive species and ecosystems, along with the established global goals for zero-waste and minimum carbon footprint. 
Session 4 – Blue Biotechnology: from genes to products
May 13, 2021 | 12:30 to 15:00 GMT
Marine biotechnology is a relatively young field of applied science, aiming to the unification of marine biology and technology for the development of novel value-added products. Research on this field is highly interdisciplinary, involving the exploration of the full spectrum of marine biodiversity along with the structural elucidation and bioactivity testing of their derived chemical compounds. By unlocking access to valuable biomolecules and providing novel uses of them, blue biotechnology displays enormous future potential and plays a vital role towards the development of blue bioeconomy in Europe and worldwide. Offering innovative solutions to major societal challenges, including health, well-being, food security and environmental sustainability, it is a field that pushes the threshold of nature for the betterment of humanity. 
A. Magoulas
CMBR Coordinator, Director of the Hellenic Centre of Marine Research
N.Papandroulakis
Research Director, Institute of Marine Biology, Biotechnology & Aquaculture, Hellenic Centre for Marine Research
G. Kotoulas
Research Director, Institute of Marine Biology, Biotechnology & Aquaculture, Hellenic Centre for Marine Research
M. Mandalakis
Associate Researcher, Institute of Marine Biology, Biotechnology & Aquaculture, Hellenic Centre for Marine Research
T. Dailianis
Associate Researcher, Institute of Marine Biology, Biotechnology & Aquaculture, Hellenic Centre for Marine Research